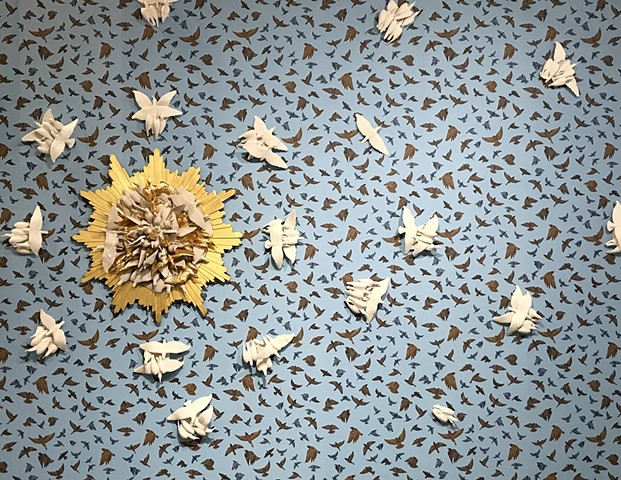 Laurel Roth Hope lives and works in Northern California. Prior to becoming a full-time, self-taught artist she worked as a park ranger and in natural resource conservation. These professional experiences influenced her current work, which centers on the human manipulation of and intervention into the natural world and the choices we must make everyday between our individual desires and the well being of the world at large. Hope was a 2017 Smithsonian Artist Research Fellow and a 2016 Resident Artist with the Kohler Arts and Industry program in Wisconsin. In 2013 she and her sometime collaborator, Andy Diaz Hope, completed a year-long Fellowship at the de Young Museum of San Francisco examining the history of human cooperation through architecture. Her work is included in the permanent collections of the Smithsonian, the Museum of Art and Design in New York, the Mint Museum, Crystal Bridges Museum of American Art, 21C Museum, the Zabludowics Collection, the Progressive Collection, and the Ripley's Museum of Hollywood, among others.
*Please note that, like many things in life, this website is a work in progress.
RECENT NEWS:
- Solo show "Accelerating Impact" opens June 4, 2022 at Catharine Clark Gallery of San Francisco and runs through July 23, 2022.
- An interview and images of my work are featured in the 2019 April/May issue of American Craft Magazine
- My Biodiversity Suits were featured in National Geographic Magazine in their January 2018 issue!
- I'm excited to be a 2017 recipient of a Smithsonian Artist Research Fellowship! I'm researching with scientists at the Smithsonian National Zoological Park and Museum of Natural History to inform a new body of work
- I spent the winter of 2016 as an artist in residence at the Kohler Arts/Industry Program in Wisconsin where I developed a new body of work in vitreous china. Thanks, JMKAC! You guys are the best! Here's a video about my work there.
- Here's another video about my work, this one done as part of my inclusion in The Singing and the Silence at The Smithsonian American Art Museum.